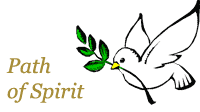 May 7, 2021
Seeing Truely Seeing... one radiance in everyone
Saying For Today: "Then, you will easily love everyone. Gratitude for others, in all their variety, will gush through you, and peace will companion you."
May 5, 2021
The Flowering... a Sacred Self & a Precious Life
Saying For Today: "We cannot change our essence - we were born with it, and it is always present, even when hidden by our egocentricity. Yet, we can create an atmosphere, a spiritual greenhouse, that fosters the manifestation of our innate being - a spirit in Spirit."