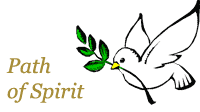 May 4, 2021
Return to Peace... Turning away from the fighting
Saying For Today: "To return to yourself is to return to peace; to return to peace is to share peace. And where peace is, love is. Returning to peace, you return to love."
May 3, 2021
Windows of Light... We Are
Saying For Today: "In seeing others, we can see the Light even if they do not recognize themselves as a means of the Light - they may not even believe in the Light, thinking themselves a mere body."